I'm one of those New Englanders who never likes to see summer come to an end. I love the fall but the end to summer always reminds me of the cold winter days ahead and all the snow I'll have to shovel. But thankfully, this year Mike and Devin made the ending to summer a little easier. They fired up the smokers and treated everyone to a fantastic BBQ feast. Now, these two are no strangers to a smoker. I hear that Mike has been known to compete in the local BBQ cook-off circuit. We're fortunate that we all get to enjoy their masterful creations.
We were treated to melt-in-your-mouth smoked sausages (wild boar, rabbit and buffalo), chicken (done two ways), and ribs (pork and beef). The menu was rounded out with Sarah's delicious bacon coleslaw (I want that recipe) and a roasted vegetable platter (one of us had to bring something healthy).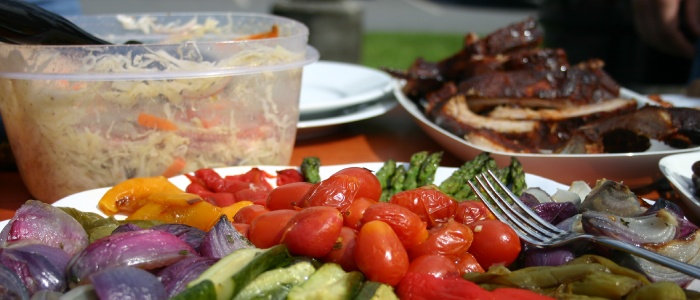 Thanks to Sarah for taking all the great pictures. If this architect thing doesn't work out, you could always work as a food photographer.