Dover, NH (October 20, 2023)—Maugel DeStefano Architects, an award-winning architectural firm that shapes exceptional designs for corporate interiors, multifamily, healthcare, labs, biotech, industrial, commercial, and custom residential homes across the Northeastern United States, today announced that it has completed the design renderings of the interior transformation for the future 100,000 SF headquarters for Northeast Credit Union's new location in Dover, NH.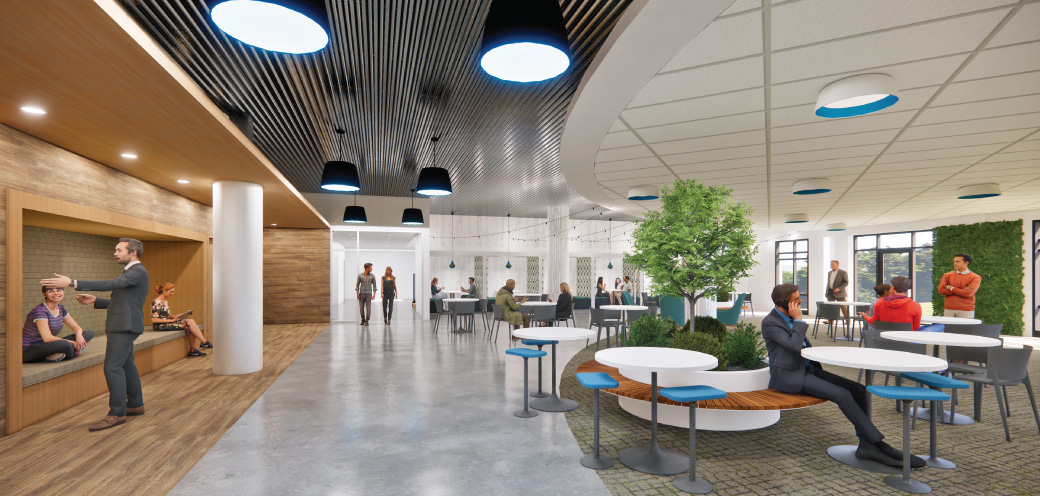 In July of 2022, Maugel DeStefano partnered with Northeast Credit Union to provide guidance during the site selection process. After careful consideration, Northeast Credit Union chose the building at 100 Education Way. The exterior of the building is going through a complete transformation by PROCON, the Architect of Record and design-builder, who incorporated new facade materials.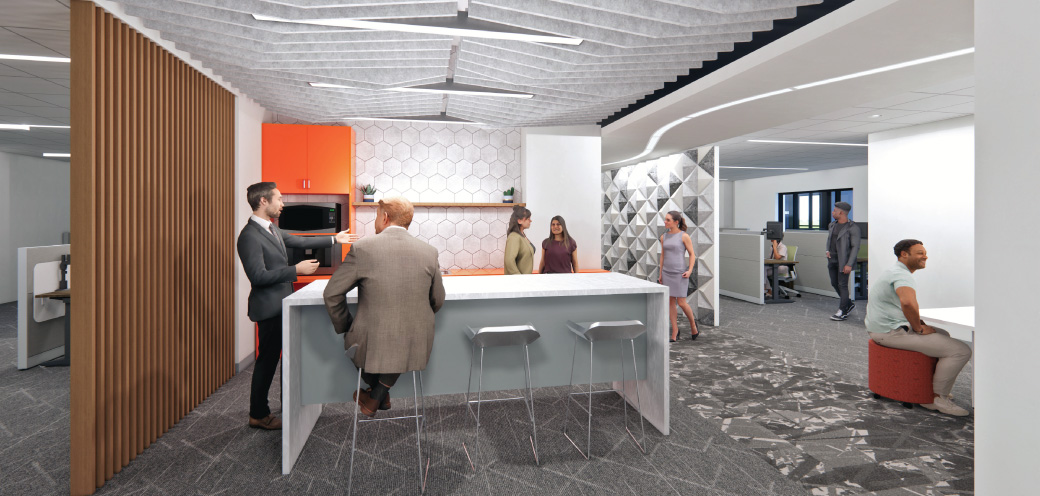 After conducting in-depth programming and collaborative envisioning sessions with each department, several key design influences came to the forefront: a strong emphasis on incorporating natural light, prioritizing employee well-being, optimizing a hybrid work model, and fostering collaboration and creativity.
"It has been a pleasure to collaborate with Northeast Credit Union and PROCON on the design of the credit union's future headquarters," said Jennifer Ferreira, director of interiors at Maugel DeStefano Architects. "Our interiors team approached the design with a biophilic mindset, exploring the connection between humans and nature, and selected natural materials that harmonized with the landscape, creating an organic, modern aesthetic."
The future plans will also capture the beauty of the natural surroundings by incorporating trees and plantings, outdoor seating areas, corporate gardens, and access to the nearby walking paths. Demolition is currently underway, with phased construction expected to be finalized by early 2025 by the PROCON design-build team.
About Maugel DeStefano Architects
Celebrating 30 years, Award-winning Maugel DeStefano Architects shapes exceptional spaces and creates environments for innovation and growth. Recently named 2023 Architecture Firm of the Year by the Boston Real Estate Times, our designs come to life in millions of square feet of commercial and residential real estate throughout New England for a wide range of clients and industries, including corporate interiors, science and advanced technology, healthcare, industrial, multifamily, and custom residential. We value long term partnerships with clients, many of whom choose Maugel DeStefano Architects time and again to help them realize their vision.
related content
Maugel DeStefano Named 2023 Architecture Firm of the Year
View More Northeast Credit Union Renderings
Read Interiors News & Insights Blog