Maugel Architects announced the completion of the headquarters expansion for Laddawn, Inc., a manufacturer of plastic and film for packaging applications. Located at 155 Jackson Road in Devens, Laddawn's original space, also designed by Maugel, was an adaptive reuse of the former Devens Library. Initial expansion expectations were for a small addition, but with some creative design and strategic site planning, Maugel proposed a 23,000 SF addition, nearly tripling the size of the existing structure. A major accomplishment in the three-story addition design was Laddawn's ability to maintain full operations throughout the construction process.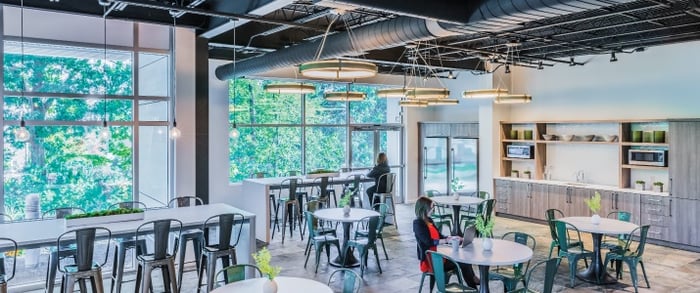 Maugel worked closely with owner, Ladd Lavallee and the team of JN Interiors Spaces and TotalOffice to design an innovative interpretation of the workplace. The new design incorporates an organic-industrial concept featuring a modern façade treatment and interior quality-of-life amenities. The aesthetic is achieved through a combination of materials and elements, such as slate tile, polished concrete floors, exposed steel structure, industrial-style pendants, and reclaimed wood. The design brings the outside in by framing expansive views of the surrounding landscape and featuring a climbing rock wall with faux grass as a key design feature.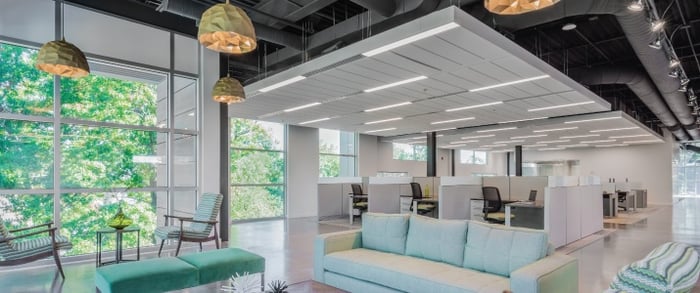 Traditional office layouts were replaced with creative and fun common spaces such as standing desks, treadmill and balance ball workstation areas, a café-style gathering space, and lounge areas.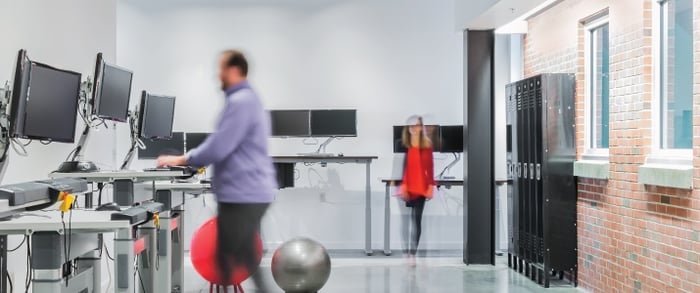 "We were thrilled to work again with Laddawn on their new headquarters addition. The space is truly gorgeous," said Brent Maugel, president at Maugel Architects. "Today's clients are looking for workspaces rich in amenities that will attract top talent—Laddawn's new headquarters surpasses that goal. The additional space will not only accommodate the company's growth for the next 5 to 10 years, but give Laddawn a competitive advantage in attracting the talent to do so," added Maugel.
The dramatic new exterior features a phenolic panel façade with asymmetric windows and a metal panel frame, soaring glass curtain walls with aluminum sun shades, and a grand triangular outdoor patio with views of the surrounding context.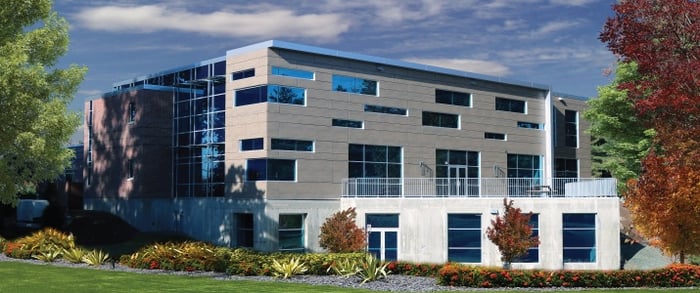 Sustainability was a key design consideration for the project. Particular attention was given to conserve resources and reduce the environmental impact. Recyclable building materials and low-emitting paints, adhesives, and flooring were a top priority. To conserve energy, walls of windows provide abundant daylight to the open office areas, break rooms, climbing wall area and lobby. LED light fixtures, interior occupancy sensors, and full cutoff exterior dark-sky approved luminaires were also installed to conserve energy and minimize light pollution. High efficiency plumbing fixtures were specified to reduce wastewater generation and potable water demand. To encourage alternative transportation, interior bike storage was located on the "Main Street" thoroughfare.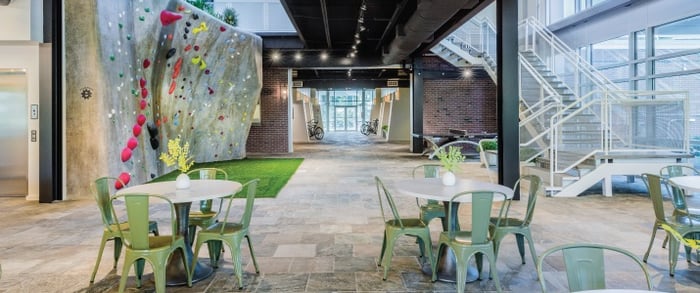 "It's wonderful when you have the opportunity to collaborate with a team that is open to new ideas and strives to provide a workplace that is fun and inspiring," said Cindi Cascio, architect for the Laddawn project at Maugel Architects. "The space is beautiful and successfully embodies the organic-industrial aesthetic while promoting a sense of well-being for Laddawn's employees."
Project Team: Laddawn, Maugel Architects, JN Interiors Spaces, TotalOffice, Apex Partners and PS Dandini