Maugel Architects announced today Carruth Capital, LLC of Westborough, MA selected the firm to reposition two commercial office properties located at 2400 Computer Drive in Westborough, MA and 450 Bedford Street in Lexington, MA. The renovations included upgrades to the facades, lobbies, and building amenities.
The original building at 2400 Computer Drive had nondescript entrances and a small, dark lobby with a low ceiling that could not be raised due to utilities. Maugel transformed the facility by designing a new two-story lobby addition adding visual drama and natural light to the space.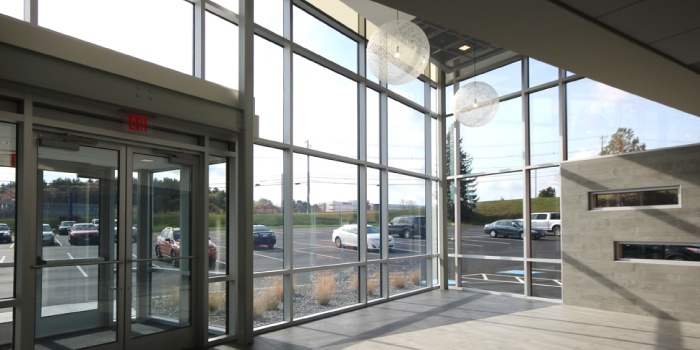 The new lobby features floor-to-ceiling curtain wall on three sides, a floating metal tile ceiling, pendant lighting and a top cap with Alucabond and Kalwall panels lit with a color-changing LED light strip. The 80,000 SF two-story R&D building is strategically located at the intersection of Route 9 and Route 495 and has approximately 40,000 SF of space available for lease.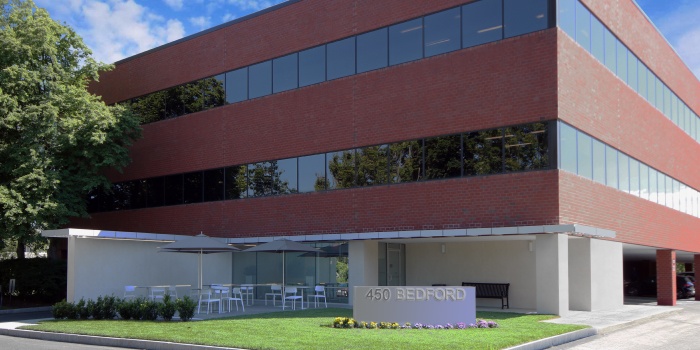 The entrance at 450 Bedford Street lacked prominence causing visitors to pass by the main entrance. Maugel defined the entry by using a contrasting wall tile and adding an outdoor seating amenity. The new patio, which replaced an unusable landscaped area, gives interest to the space and allows daylight into the interior.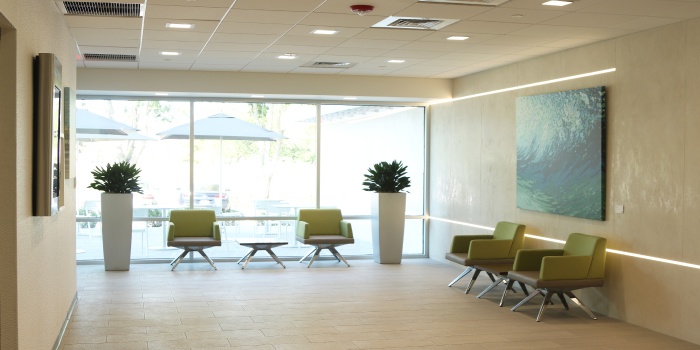 The lobby was completely gutted and redesigned. Floor tile, wall tile and two LED strip lights were carried from the exterior into the lobby to visually connect the two spaces. Additional lobby features include a new high-end custom stainless steel stair rail, a dramatic three-story chandelier and a modern textured wall covering. Strategically located at the intersection of Route 4 and Route 128, this first class office building is home to multiple small and mid-sized businesses. Currently, there is approximately 8,000 SF of space available for lease.
"It was a pleasure working with Carruth Capital on the Computer Drive and Bedford Street repositionings," said Sarah Cormier, project manager at Maugel Architects. "They came to the table with great ideas and were actively engaged throughout the process. I look forward to continuing our relationship with the Carruth team."