Maugel Architects announced today that Duffy Properties has selected the firm to renovate three properties on Hartwell Avenue in Lexington, MA. Located just 12 miles from Boston, the Lincoln Labs-Hartwell Avenue area is known for its high concentration of innovative life sciences companies. Maugel is renovating the Duffy-owned buildings located at 25, 40 and 45 Hartwell Avenue.
"We are thrilled to be working with Duffy Properties on the Hartwell Avenue projects," said Mark Pelletier, senior director of architecture at Maugel Architects. "It's great to be part of the tremendous growth of the suburban life sciences sector and to contribute to the revitalization of these prime suburban properties," added Pelletier. "We look forward to working with Duffy Properties on future projects."
25 Hartwell Avenue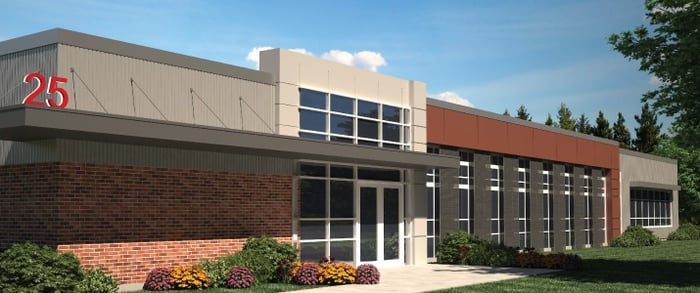 Maugel recently completed the schematic design at 25 Hartwell. The new design dramatically enhanced the building's exterior by incorporating vertical elements and recladding the existing façade. Structural costs were contained by optimizing existing structural elements and minimizing existing masonry removal. Maugel created a more vertical appearance by extending the existing metal panel down to the top of the foundation in key areas. A mix of materials including metal mesh, curtainwall, metal panels, and faux wood phenolic panels were used to complement the existing metal panel and brick veneer.
40 Hartwell Avenue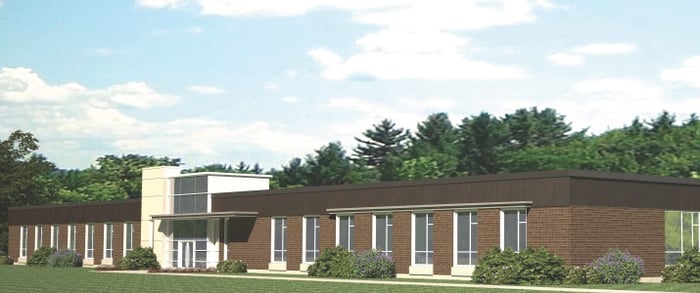 Currently under construction, the 40 Hartwell design features a new entry consisting of a raised roof, clerestory glazing, solar shades, a tower, and a canopy. The new entry gives height and interest to the low-lying, horizontal façade and admits natural light into the vestibule and lobby. Other building improvements consist of enlarged openings and the refurbishment of existing exterior materials. The refresh transforms the property into a stunning space for future tenants.
45 Hartwell Avenue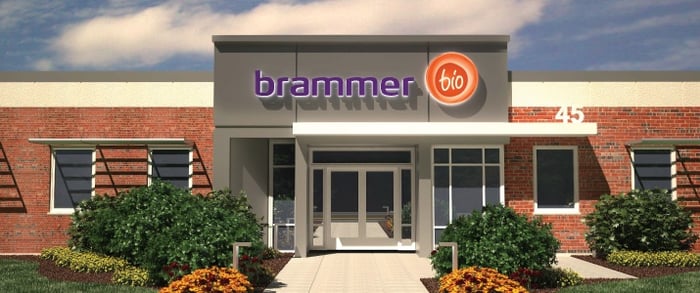 At 45 Hartwell, Maugel designed a customized environment for new tenant Brammer Bio, a cell and gene therapy contract development and manufacturer. Exterior improvements include two new entries that feature new glazing framed by metal panels and canopies. The main entry also provides a stunning backdrop for Brammer Bio's corporate branding. Other improvements include a raised clerestory to allow vertical flexibility to house a new clean room.
Click to see completed Hartwell Avenue projects
In addition to Maugel Architects and Duffy Properties, the team included structural engineers RRC Engineering.