Maugel Architects has had a busy year. The continuing trend of repositioning suburban assets has resulted in a flurry of new commissions for the firm. Maugel is well known throughout the commercial real estate industry for its talent in transforming commercial and industrial properties into modern, competitive assets.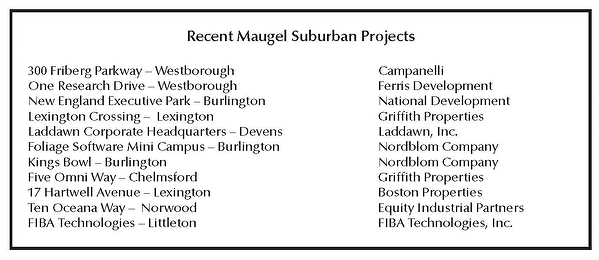 The popular "live-work-play" lifestyle so readily available in urban settings, is now being embraced along Route 95/128 in Burlington and Waltham, and in many office campus settings along Route 495. Aside from attractive lease rates, suburban sites offer easier commute, free and plentiful parking, and the opportunity to maximize lifestyle amenities. Companies are looking for urban conveniences in suburban campus concepts with environmentst that feature modern, vibrant work places surrounded by cafes, after hours spots, fitness centers, grocery stores, and shopping.
"Maugel has a 25 year history of working with developers along the Route 128 and Route 495 belts— transforming older assets into modern, Class A properties. The firm is well-known for designing additions and new facades for underperforming assets and revitalizing them into attractive alternatives to urban sites," said Brent Maugel, president of Maugel Architects.
"Our long history designing large corporate interiors gives our designers a unique appreciation for what makes America's work spaces productive: being convenient, functional, and attractive are at the top of the list, " added Maugel. "It's an exciting time in the suburbs, as corporations see how attractive building facades and refreshed common areas can be. We look forward to what promises to be another stellar year for a broad range of design opportunities."
Maugel Architects is integrating amenities into small central spaces we call Town Centers. These include multi-purpose lobbies, wireless IPad bars, grab-and-go cafés, fitness centers, climbing walls, conferencing areas, and "all hands on deck" zones that are often adjacent to outdoor dining areas.
With the recent relocation of GE Healthcare, Quest Diagnostics, Genzyme, and TJX Cos. to the Route 495 area, momentum is gaining. With continued innovative design, developers and corporate tenants alike are taking a new look at the repositioned urban-suburban commercial real estate trend that is certain to gain momentum.