Maugel Architects announced today that Comcast and 19 Presidential Way have been nominated for the 2016 IFMA Boston Awards of Excellence.
"Maugel Architects is thrilled to have two of our projects nominated for the 2016 IFMA Boston Awards of Excellence. IFMA Boston is a wonderful organization and we are fortunate to have previously won the Award of Excellence for the design of the World Academy School in 2014," said Brent Maugel, president of Maugel Architects."The dramatic interior transformations of both Comcast and 19 Presidential Way have generated a lot of buzz in the industry—we look forward to attending the awards ceremony and seeing the designs of our fellow nominees."
Comcast Greater Boston Regional Headquarters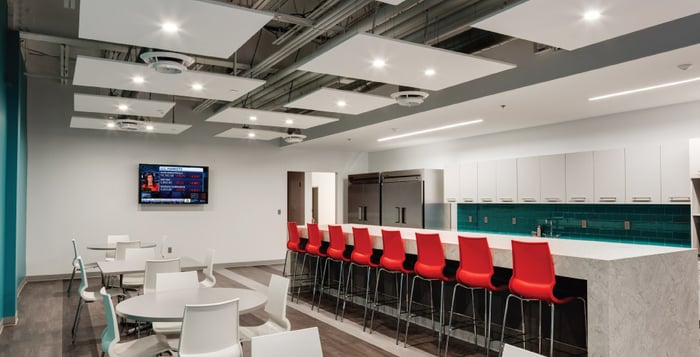 Maugel designed the 131,000 SF tenant fit-up for Comcast's Greater Boston regional headquarters located at Five Omni Way in Chelmsford, MA. Maugel had previously designed the façade and lobby improvements at Five Omni for building owner Griffith Properties.
The scope included a call center, a product demo lab, a training facility and classrooms, an executive suite, a fitness center and a full-service cafeteria. The new design features predominately open workspace and shared amenity spaces, such as huddle rooms, along with exposed ceiling concepts with LED lighting and sleek new finishes. The flexible design not only meets the needs of Comcast's current 475 employees but allows for future expansion.
In addition to Maugel Architects and Comcast, other team members included property owner Griffith Properties, AHA Engineers and Aberthaw Construction.
Click here to see more Comcast images
---
19 Presidential Way - Alexandria Real Estate Equities, Inc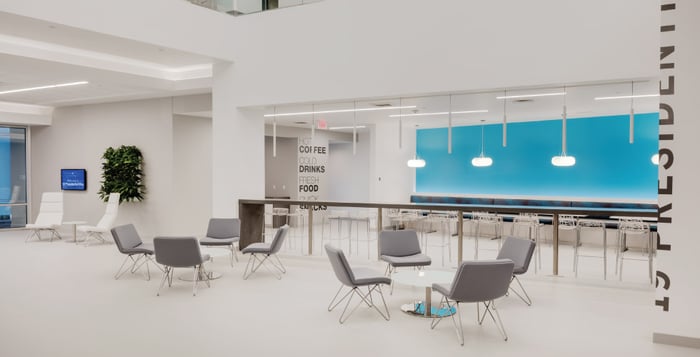 The 19 Presidential Way project repositioned the former ArQule headquarters in Woburn for Alexandria Real Estate Equities, Inc. The scope included dramatic renovations to the building's main lobby and amenity improvements to the facility. The innovative design adds space and volume to the lobby—creating a multipurpose high-energy activity zone with a collaborative high-tech vibe. The dramatic space features contemporary finishes and lighting, a monumental stair with a feature fabric wall, a high-end kitchenette, counter-height table tops, banquettes, and outdoor seating. Maugel, Alexandria Real Estate Equities Inc., the Richmond Group, and R.E. Dinneen Architects collaborated on the exciting new aesthetic for the building.
Click to see more 19 Presidential Way images.