Maugel Architects announced today that the firm has completed the commercial interior design of the Northeast location for Somos, Inc., located in Westford, Massachusetts. Somos, formerly known as SMS/800, Inc., is the registry administrator for more than 40 million Toll-Free Numbers in the US and Canada and manages the registry for text enabling Toll-Free Numbers. Somos also provides centralized routing data for Toll-Free voice and texting services.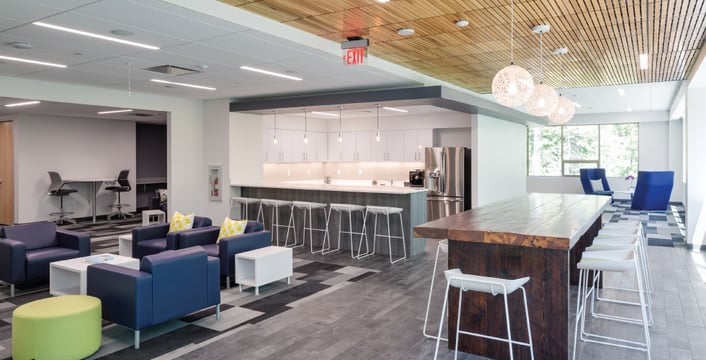 Nestled in a wooded office park, the new 10,000 SF office space juxtaposes the natural warm setting of the suburban location with an urban style all-glass corporate office design and cool-toned interior finishes. Wood ceilings were used in the reception and gathering areas to pay tribute to the natural surroundings. The gathering area and adjacent pantry provide space to host company-wide meetings and features a custom-designed 12-foot farm table made of reclaimed wood from the 1600's.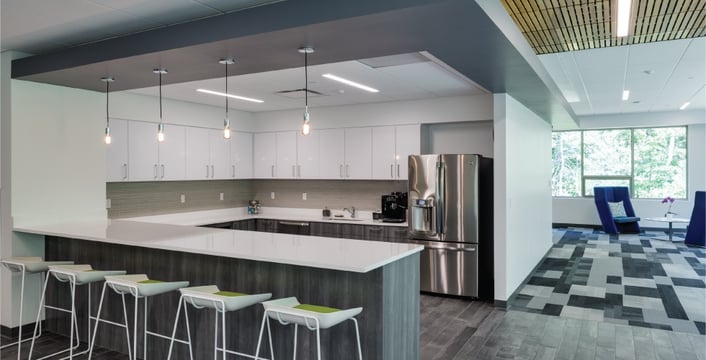 "It was a pleasure working with Somos, Inc., to create a beautiful workspace for their employees," said Jane Sullivan, director of interior design for Maugel Architects. "Today's clients are looking for a warm and inviting space with a fresh urban feel. At Somos, we married the two asthetics to create a sophisticated interior with rustic touches—all delivered in a full-service package, from design to furniture," added Sullivan.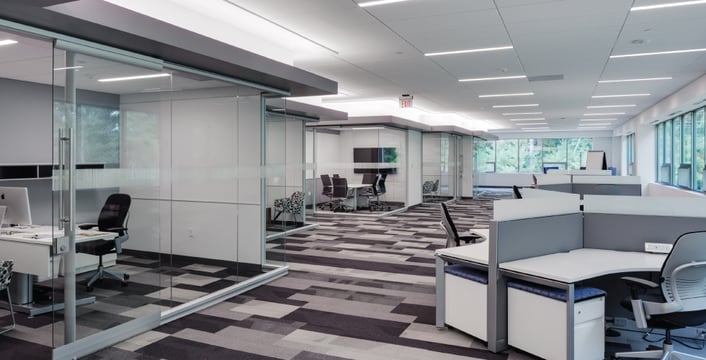 The corporate space houses eight offices, a large open collaboration space, and a boardroom. Each office features height-adjustable desks, guest chairs and a full wall of writing surface. A ribbon of grey color tops the all-glass fronts and a soffit adds a wash of light to the ceiling. The boardroom accommodates 25 people. White back-painted glass writing surface line the walls for presentation along with a 90-inch wall mounted display.