As many of you know, in May of 2018 Roberta and I lost our son Matthew to a longtime struggle with drug addiction. Since that time, our family has been searching for ways to celebrate Matt's life and to help prevent other families from experiencing a similar tragedy.
On September 22, 2019 our family will be participating in the Shatterproof Rise Up Against Addiction 5k Walk/Run. Shatterproof is a wonderful organization whose mission is to shatter the stigma of addiction, improve treatment quality and access, and save lives. Our goal is to raise $25,000. Every dollar raised supports Shatterproof's mission to end the tragedy caused by the disease of addiction.
To donate, click on the link below. Our team name is the Matt Giaimo Legacy Team. You can also search by my name. We thank you in advance for your generosity.
About Matt: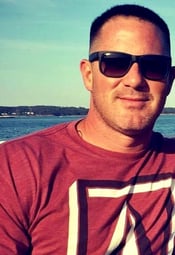 Matt had a larger than life personality that overtook a room. His booming voice, big bear hugs, and loud and humorous stories defined his charm. An avid weightlifter who proudly displayed his colorful tattoos, Matt loved adventure and high-speed hobbies, such as hockey, skiing, snowboarding, four-wheeling, ziplining and skydiving. Above all, Matt was passionately devoted to his family, attending all family holidays, birthdays and sporting events with gusto. He was a wonderful, loving son who would visit often with a joyful spirit and a giving heart. He had a kind soul and would do anything at any time to help his parents, relatives and friends.