School environments must be functional and safe. They also need to draw you in, inspiring creativity and exploration--for children, for families, and for staff. In the competitive private school marketplace, first impressions are becoming increasingly vital to a school's long range sustainability. While reputation, curriculum and financial parameters will certainly be considerations, we believe an initial emotional response to a building's character will weigh heavily in the decision-making process on whether or not to attend a particular school. The building's design is also an important factor in the competition for highly-qualified staff. People like to hang around spaces that make them feel good.
In working with two recent educational clients, we have seen greater emphasis being placed on the quality of the design and the materials being used to create inviting school environments. We repeatedly hear (and witness) the need to provide a myriad of storage opportunities. Teachers want materials and equipment to be readily accessible, not cluttered about creating visual noise. They want kids' gear and personal belongings to be tucked away in dedicated spaces, not lining the corridors or piled in the corners of learning spaces. In our work with World Academy (2014 IFMA Award of Excellence Winner), traditional lockers were replaced with closed storage cubbies. The cubbies were accessed from a common lounge and became part of the decorative wall system of adjacent classrooms.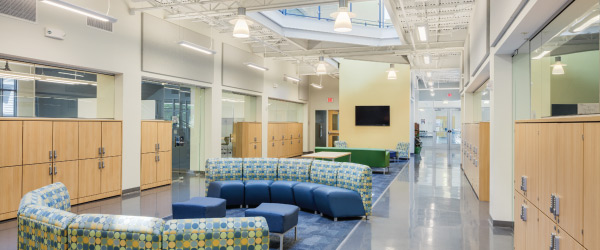 Multi-purpose rooms are also growing in popularity. They help square footage be used more efficiently and prevent large areas from being underutilized. These spaces also contribute to a school's marketing and community outreach efforts. With proper furniture, storage, and equipment, a multi-purpose room can become an effective venue for large meetings, performances, or social events.
Recent advancements in materials and technology have created spectacular opportunities to design exciting educational environments: photovoltaic panels can be used for canopy structures and roofscapes, rain water collectors can service teaching gardens, and recycled materials can add visual interest and variety. All these advancements help promote sustainability and create an enhanced, interactive educational experience.
It is an exciting time for the private education design community. We have the opportunity to create a new generation of feel-good, efficient, and inspiring schools that will attract new students and staff, and energize the process of learning.
Click here to read more about Maugel's award winning design for World Academy: School Buildings That Inspire