Welcoming spaces for fellowship, reflection, disciple-building, and learning —these factors have guided extensive interior renovations at Gordon-Conwell Theological Seminary during the past two years.
The phased renovation effort included the creation of three distinct spaces at the seminary's central Kerr Building, which culminated in a heartfelt dedication ceremony on September 6, 2013. It has been an honor for Maugel Architects to assist Gordon-Conwell with each of these projects; sharing their vision and celebrating the generosity of spirit and resources that have made it all possible.

Alumni Hall now serves as a multipurpose function venue, complete with integrated tablet-based technology to control audio-visual equipment, window blinds, and lighting. Finished in a style that reflects the New England tradition, the space has already successfully hosted an international conference (Lausanne) with representation from more than forty countries. With an adjacent kitchen and nearby chapel, Alumni Hall has also accommodated weddings, large seminary events, and meetings and retreats for other colleges and educational organizations.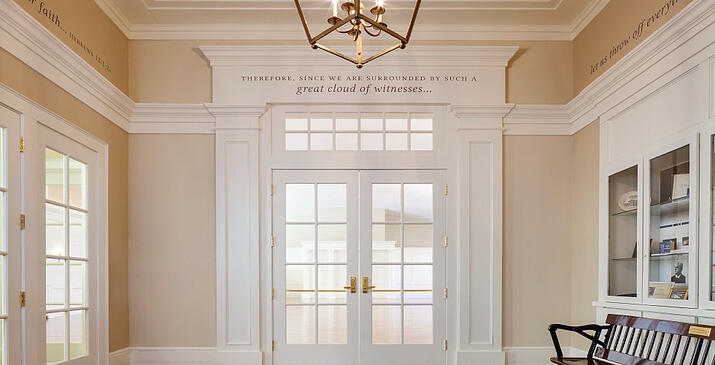 At the entrance to the hall, a gracious foyer transitions from the main lobby and contains an inscribed entablature, as well as display space to celebrate the seminary's history and the extensive accomplishments of its alumni and faculty. It also serves as the entrance to the President's Conference and Dining Room, a gracious place for intimate gatherings, formal dinners, and fireside conversations.
Pierce Great Hall and Center
The heart of the renovation effort created two of the most meaningful spaces on the seminary's main campus: Pierce Great Hall, and the relocated Pierce Center.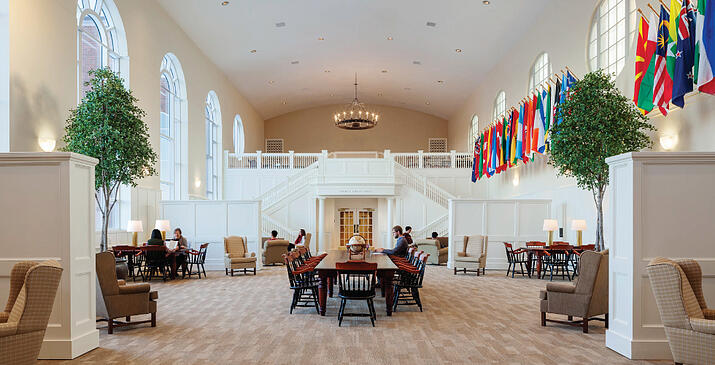 With its thirty-five-foot high vaulted ceiling and flags from around the world, Pierce Great Hall has now been outfitted to exemplify the gravitas of the seminary's purpose, and to create warm, comfortable and inspiring spaces for study, for reflection and for fellowship. A fourteen foot long, hand-planed mahogany table built by a local furniture shop now occupies the center of the room, emphasizing permanence and community. New wood dividers and large trees create smaller, more intimate spaces within the larger hall, where a combination of study tables and seating arrangements sustain student activities. A grand double stair with turned balusters provides focus and character and leads to an upper lounge with additional relaxed seating. The seminary's emblem, with bible and cross, hangs proudly above the main doorway.
The finishing touch to the overall renovation effort was to create a new home for the Pierce Center for Disciple-Building. Originally founded by Lois and John Pierce, the Pierce Center helps seminarians to develop their own spiritual path as life-long religious leaders. Relocation of the Pierce Center strategically places it steps away from both halls and adjacent to a small chapel and separate prayer room. The new location affords space for a welcoming entry, a comfortable meeting room, and storage for an extensive collection of books and resources. Director, Dr. Steve Macchia, explains that the center is designed to be "co-curricular" and to provide "an opportunity for students to be fully engaged in their spiritual formation.
It was intentional that the dedication was intimate and simple. Nonetheless, the ceremony was significant in glorifying the mission of the seminary and in honoring the countless individuals who are welcomed and served by this dynamic community.