The following post is an excerpt from the June 2013 edition of the MetroWest495 Biz Journal: It's Renovation Season For Some Commercial Landlords
The following are properties that have been part of the MetroWest landscape for decades, whose owners decided to invest in renovations in the hopes of renewing interest among would-be tenants, as well as to make them suitable for their own needs.

FIVE OMNI WAY, CHELSMFORD, MA
Griffith Properties of Boston bought the building known as 5 Omni Way in Chelmsford this spring for $3.8 million, a far cry from the $18.3 million the building fetched in 2005, before it was foreclosed on. The new owners, Griffith Properties of Boston and Echo Bridge Partners of Wellesley, have decided to invest $1 million in an extensive renovation on both the interior and façade.
Maugel Architects of Harvard is leading the redesign of 5 Omni Way. Brent Maugel, president of the firm, called it a "pretty ambitious remodeling of the building," which includes redesigning the landscaping, adding metal panels to the façade of the building for a more modern look, the construction of a new, two-story lobby, creating a new site plan, and even building amenities like a café, fitness club, and common meeting area.
Maugel called the renovation "speculative," meaning the owners are moving forward without an agreement to lease the property to a particular tenant. Instead, they hope a tenant will take notice once reconstruction is underway next month.
This is just one of about a dozen recent speculative renovation projects the firm has been hired to design, according to Maugel. One example was a 650,000 square-foot building in Salem, built by Digital Equipment Corp., a computer system and software firm founded in the 1960s and acquired in the late 90s. Maugel said the client paid for an extensive renovation, and then nearly filled the building with new tenants.
According to Maugel, it's not enough for a property owner to present potential tenants with designs to show what the building could look like.
"We're finding that, unless the construction is actually being done, it doesn't pique the interest of the potential tenant," Maugel said.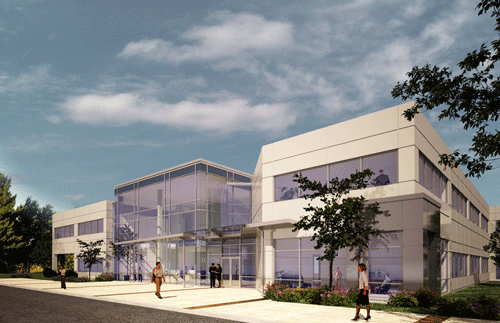 This architect rendering depicts what 5 Omni Way in Chelmsford will look like after an extensive renovation. A number of landlords across MetroWest are revitalizing their commercial office properties in an attempt to attract the right tenants. Griffith Properties is undertaking the Chelmsford renovation on spec, or without a future tenant secured.
[Read more about Maugel's design for 5 Omni Way]
FIBA TEchnologies
FIBA Technologies of Millbury purchased the property at 53 Ayer Road in Littleton for its own use in September 2012. Once a concrete pre-cast facility that drew stone from a nearby quarry, Smith said the building has been vacant for years.
"It's had several different owners and hasn't really been able to make a go of it," Smith.
Seeing an opportunity to expand in new office and manufacturing space in Littleton, FIBA, which makes transportation rigs for gas storage vessels, has decided to invest its own money to modernize the building and make it an attractive work environment.
Groom Construction is leading the project for FIBA, and Smith declined to share the project price tag. But he said the major component of the project includes the construction of a new, two-story office building on the southeast corner of the building. Right now, the building contains no habitable office space.
"We're starting from scratch with this office building," said Smith, who estimated it was built in the late 1960s or early 70s.
Smith believes a heightened sensitivity about creating a pleasant work environment is driving more property owners to renovate, whether they're leasing the property to another company or inhabiting it themselves. Companies want the best employees to work for them, so they want to create contemporary work spaces that are bright, open for collaboration and comfortable, Smith said.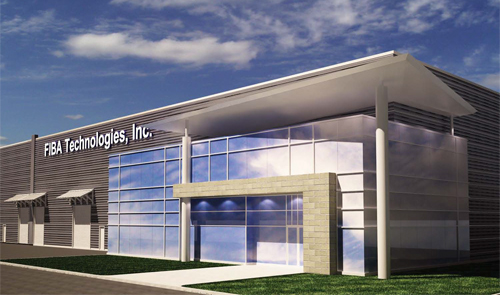 Maugel Architects' Rendering of FIBA Technologies
To read the original article in its entirety click here.