Dear Maugel Friends,
Our son Andrew was born with a congenital heart defect. Andrew's heart was "repaired" when he was three days old by an amazing team of cardiac surgeons at Boston Children's Hospital. He was fortunate to need only one surgery, and he has had no physical restrictions since. At Andrew's 4-month follow up visit with his cardiologist, we noticed advertisements for a brand new Walk for Boston Children's Hospital (which was originally called Miles for Miracles) and we just knew we had to sign up.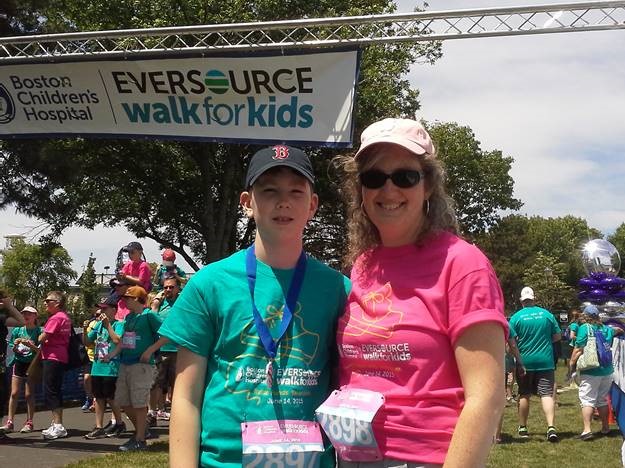 On Sunday, June 14th, our family participated in the annual Walk for Boston Children's Hospital for the 13th year (now called Eversource Walk for Kids). It's still hard to believe that the first year we walked Andrew was only 5 months old and had just recovered from heart surgery. We walked for Andrew, for future patients and for the amazing cardiac department that detected, monitored and repaired Andrew's heart defect. We are forever grateful for the research and patient care at Boston Children's Hospital, both of which this fundraiser supports. Andrew is now a healthy 12-year-old who loves playing baseball and riding his bike, and has no physical restrictions!
Thank you very much for supporting us on the Walk for Boston Children's Hospital (also known as the Eversource Walk for Kids). It was a beautiful day and, as always, it was inspiring to see so many children and families all walking for the same wonderful cause. With your donation we were able to exceed our personal goal and raised $ 1,700! I am honored to be a "Miracle Maker" again this year for the 13th time.
The 2015-2016 US News & World Report "The Best Children's Hospitals" rankings were released this week, and Boston Children's Hospital is the #1 ranked children's hospital in the nation. Specifically important to us, it is #1 in Cardiology & Heart Surgery.
Thank you for your support and generosity. Together we have made a difference!
~Maureen, Dave, Will & Andrew