Maugel Principal Mark Pelletier was a presenter on the Life Science panel at the New England Real Estate Journal Life Science and Healthcare Summit held on February 13th at the Boston Newton Marriott.
Mark, who leads Maugel's Life Science practice, discussed trends in the Massachusetts Life Science industry and Boston's status as the #1 Life Science Cluster in the world. With more than $5B in venture funding pouring into the Boston Life Science market in 2019, and vacancy rates at less than 1%, demand for lab space far outpaces the ability for developers to build or renovate fast enough.
Life Science Clusters Emerging in Suburbs
The quest for space is spurring the development of additional lab mini-clusters in the Seaport and the outer suburbs of Somerville, Watertown, Waltham, Lexington and Bedford. This expansion into the suburbs is expected to continue for the foreseeable future, as growing life sciences companies seek larger facilities for research and manufacturing.
Conversion of Commercial & Industrial Properties to Lab Space
To capitalize on demand, Pelletier is seeing increased activity from property owners wanting to convert existing commercial and industrial buildings into lab spaces. Mark shared the many challenges that owners face when planning a lab suite in a space that had never been intended for such use, such as location, mechanical space, superstructure, material handling and geometry. It's essential that property owners have the building lab-ready - timing is critical. Tenants want spaces that have all the boxes checked and are ready to go. If they are not, the potential tenant moves on to the next facility. Mark details the building conversion criteria that his team uses when evaluating new potential properties for property owners below: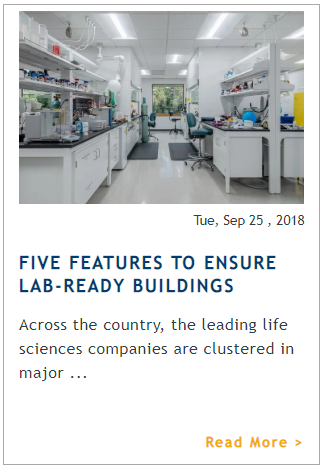 The Emergence of Lab Incubators
A second lab design trend Mark's team is seeing is the emergence of life science incubators, a new lab-share model that is helping young companies flourish, by minimizing start-up costs and jumpstarting research and development. Designing for flexibility and future expandability is critical. One of the main challenges for the incubator model is the frequent turnover and changing space requirements that occur within these facilities. Either an incubator tenant company comes in for a few years, fails and then leaves the building, or the incubator tenant succeeds and requires a larger space. This need for flexibility is paramount when planning, designing and constructing an incubator space. You can read more about the best in incubator design ideas in the article below, which Maugel co-wrote with Fitzemeyer Tocci.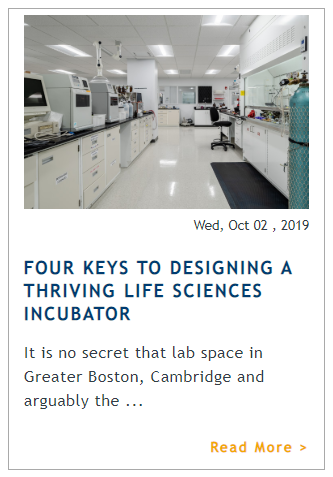 About Maugel Life Sciences Team
For over 25 years, Maugel Architects has been shaping exceptional life science spaces and creating environments for innovation and growth. Our life sciences team has extensive experience designing facilities for world-class medical device and life science companies whose complex R&D, process manufacturing, and distribution needs are major challenges in the design process.
At Maugel, we know how design choices impact potential growth, ROI and future planning. These projects require a high-level of competency in the coordination of clean room and process technology. Because we have agile, dedicated teams with deep vertical experience in life sciences, we can assign experts to focus on your specific needs and partner with you throughout the process.
Mark Pelletier AIA can be reached 978 456 2889, mpelletier@maugel.com.
VISIT OUR SCIENCE/ADV TECH HOMEPAGE TO SEE MORE
Read a full summary of the event at the NEREJ website