It is no secret that lab space in Greater Boston, Cambridge and arguably the mid-suburbs is hotter than Cape Cod beach sand in August. As a result, life sciences entrepreneurs looking to find space in the region are being shut out. At the same time, there is a critical need for these young, innovative companies to have a presence in one of the most successful life sciences clusters in the world. One way smaller businesses can swim in the big pond is with the help of life sciences incubators, a new lab-share model that is helping young companies flourish, by minimizing start-up costs and jumpstarting research and development.
Think of incubators as the WeWork of the life sciences industry. They provide a turnkey lab environment that can range from a single lab bench to a large private lab that accommodates 100 people. Aside from the millions of dollars of high-end lab equipment, life sciences incubators offer shared amenities that save on operation costs such as reception, kitchen, breakrooms, conference rooms, collaboration spaces, IT staff, data center, security, hazardous waste management, janitorial services, facilities management, glassware and autoclave. Incubators can also provide safe equipment training along with funding and permitting assistance. In a nutshell, life sciences incubators allow start-ups to streamline operations and so they can focus on the science.
Take a Neighborhood Approach
When designing a lab-share environment, proper programming and space planning is essential. We view the space as a mix of public and private neighborhoods of a small city— that when properly distributed, create a collaborative environment for businesses to thrive. Energetic public spaces, such as reception areas, kitchen/café, breakrooms and bathrooms are located closer to the main entrance, where noise tolerance is higher. Semi-private areas such as workspaces, conference rooms, flex rooms and breakout spaces are distributed throughout the facility to encourage collaboration. Private laboratories and offices, which require high levels of individual concentration are designed with sound absorption and sound masking systems. They are located toward the rear of the facility, where the traffic flow is less of a distraction.
Design for Flexible Growth
Designing for flexibility and future expandability is critical. One of the main challenges for the incubator model is the frequent turnover and changing space requirements that occur within these facilities. According to the National Venture Capital Association, approximately one in five biotech firms achieve liquidity after five years. At the same time, there are tens of billions of dollars of venture capital flowing into the biotech market annually. This results in an incredible movement of companies in and out of incubator spaces. Either an incubator tenant company comes in for a few years, fails and then leaves the building, or the incubator tenant succeeds and requires a larger space. This need for flexibility is paramount when planning, designing and constructing an incubator space.
Minimize Infrastructure Costs
Designing for flexible growth mitigates upfront costs, as compared to a full build-out installation. Laboratory infrastructure installation cost (MEP/FP) can run anywhere from the $100 to $200/SF range, depending on size, complexity, location, etc. Infrastructure costs can be as high as 40% to 50% of total construction cost. The reduction in capital investment provided by an incubator can make initial construction costs more palatable. This applies to all major infrastructure systems, including, but not limited to, mechanical, electrical, plumbing and/or process equipment and systems.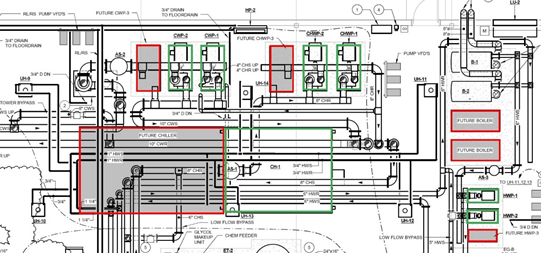 Figure 1 - Sample Mechanical Room Drawing with Future Expandability
One area of potential cost savings is designing base chilled and/or hot water systems to serve the HVAC system. Reference Figure 1, with HVAC equipment in 'green' as equipment to be installed initially, while equipment in 'red' allows for space and interface for future equipment and expandability. Providing the flexibility for a company to grow within their existing space or to add more capacity easily will pay dividends for developers and tenants. By predicting growth, you can provide larger steel members that will carry future loads along with space allocation for large pieces of equipment. If there is a growth plan set forth, it allows architects and engineers to flush out all code implications that could be impacted.
Strategic Placement of Services
Within laboratory spaces, repetition and standardization is critical. As laboratory equipment moves in, out and around these spaces, it is important to keep services stationary. At a recent 35,000 SF R&D space, we strategically located the ceiling panels to provide power, tel/data, laboratory gas and other needs. When it comes time to reconfigure the space, the layout can be easily changed with minimal disruption to services. We've also used moveable laboratory furniture with built-in infrastructure to facilitate reconfiguring equipment and researchers.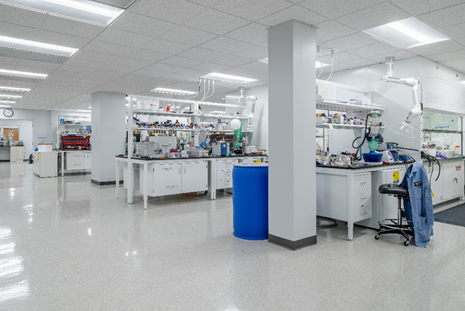 Figure 2 - Repetitive Lab Benches with Service Panels, Snorkel Hoods and Fume Hoods
From the outside looking in, this model may sound disruptive to tenants, but businesses are quickly evolving. Individuals along with corporations are more open to collaboration and sharing information than ever before. There is some additional disruption with sharing spaces, but in the end, the collaborative environment, along with the ability to quickly begin and grow a company far outweigh the negatives. When these spaces are properly designed, these facilities will thrive. Let's face it, life sciences need to evolve because of rising costs and the rapid speed of the industry. What better way to adapt than with a flexible working model that is already playing out in life sciences clusters throughout Massachusetts?
This article was originally published on September 29, 2019 in Bankers & Tradesman
About the Authors
Jeremy Baldwin, AIA is a registered architect for Maugel Architects specializing in the life sciences market. Jeremy can be reached at jbaldwin@maugel.com, 978 456 2873.
Matthew Merli, PE is an associate principal and science & technology market leader for Fitzemeyer and Tocci. He can be reached at mmerli@f-t.com, 781 285 2283.
Related Articles:
Five Features to Ensure Lab-ready Buildings
Four Innovative Lab Design Ideas for Spring Bank Pharmaceuticals