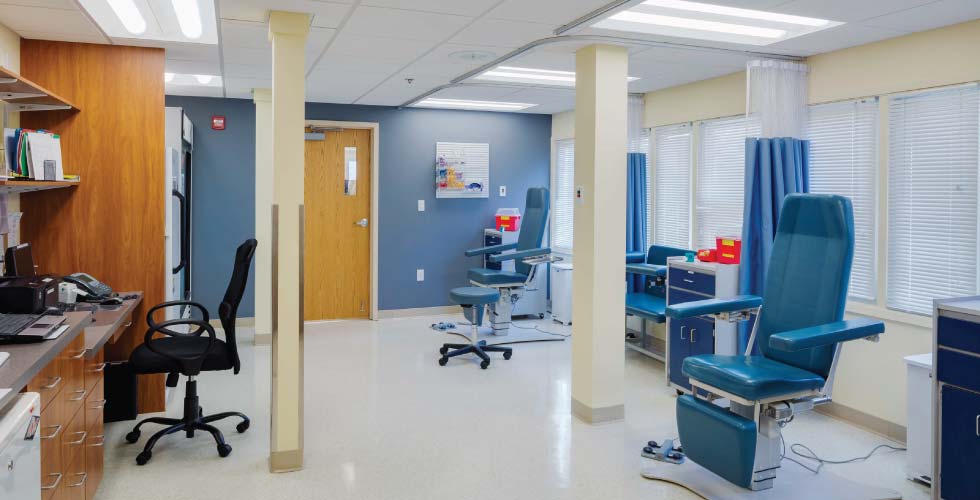 Maugel Architects announced today that it has completed the renovation of Acton Medical Associates' patient services facilities located at 321 Main Street in Acton, MA. The renovation included a redesign and upgrade to the processing laboratory, the phlebotomy and ultrasound facilities, and a new reception and waiting room area. Maugel had previously completed projects for Acton Medical's offices in Acton, Harvard and Littleton.
Acton Medical's recent conversation to electronic medical records (EMR) eliminated the need for onsite paper file storage, freeing up valuable square footage. As a result, they were able to renovate the existing lab and phlebotomy area to create a more pleasant waiting and service area for patients, and a more efficient work space for employees.
"We are pleased to be continuing our long-standing relationship with Acton Medical;one of the longest ongoing relationships in our health care portfolio. They are wonderful, caring professionals and it shows in their devotion to creating a positive patient experience," said Brent Maugel, president of Maugel Architects. "In addition to the current patient services facilities, Maugel renovated Acton Medical's X-Ray and Bone Density facility and designed their satellite offices in Harvard and Littleton."
One of the greatest challenges was to keep services up and running during construction. Maugel worked diligently with Acton Medical's staff and the construction team at JM Coull, Inc. to phase the project—providing minimal disruption. The Main Street Acton facility now features upgraded spaces for X-Ray and Bone Density services, Phlebotomy, and Ultrasound.