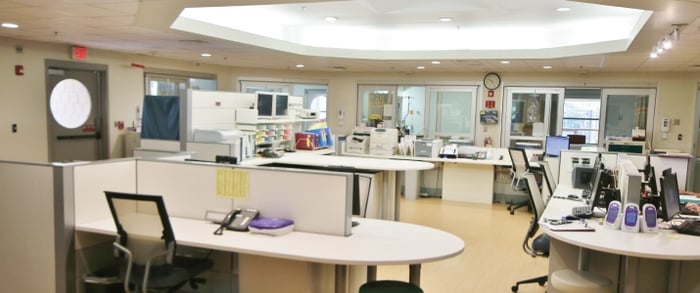 Maugel Architects has completed renovations to the nurse station and family waiting areas of the Intensive Care Unit (ICU) at UMass Memorial-Marlborough Hospital located at 157 Union Street in Marlborough, Massachusetts. Maugel is working with the hospital on numerous renovations throughout the facility.
In the ever-evolving medical field, workspace flexibility and the ability to accommodate future growth are key considerations. Maugel worked closely with the hospital team and Creative Office Pavilion to ensure an efficient and flexible workspace for staff and a comforting environment for patients. The new design reconfigured the outdated nurse station to improve patient sight lines and streamline work flow. The ICU family waiting areas were also refreshed with a serene color palette and finishes to create a retreat for families.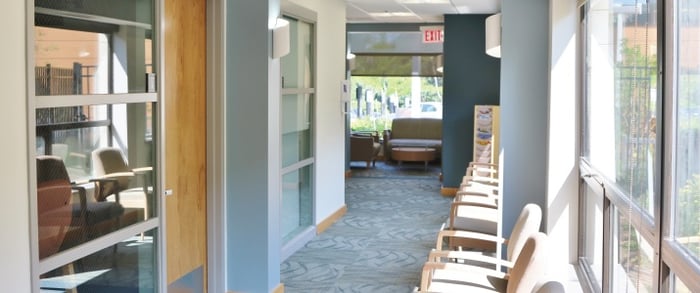 "It was a pleasure working with the team at UMass Memorial-Marlborough Hospital on the ICU renovations. The new improvements will greatly enhance the ICU's functioning and patient experience," said Nicole Kirouac, project manager at Maugel Architects. "We look forward to working with the hospital on future projects."
About UMass Memorial Marlborough Hospital
Founded in 1890, UMass Memorial - Marlborough Hospital is an acute care community hospital providing care to residents in the surrounding communities--Marlborough, Hudson, Northborough, Southborough, Stow, Berlin, Bolton, Sudbury, Westborough and parts of Framingham and Hopkinton (combined populations exceed 200,000). The hospital is licensed for 79 beds which includes an inpatient psychiatric unit. A wide range of services is available: medicine and surgery and subspecialties such as cardiology, pulmonary, gastroenterology, and orthopedics; laboratory and radiology services, including digital and 3D mammography; physical therapy; cardiac rehabilitation; inpatient and partial day mental health services and an emergency department, staffed by physicians.