Maugel Architects has completed the repositioning of five buildings at The District, formerly known as New England Executive Park. National Development rebranded the park as part of a multi-phase redevelopment project to revamp the 13-building complex into a walkable, urban-style destination. Maugel Architects designed dramatic façade improvements and common area upgrades to five buildings within the complex. The renovations helped to transform the office park into a vibrant, pedestrian-friendly campus with modern eateries.
"It had been our privilege to work with the team at National Development. We wanted The District experience to be high-energy and fueled by exciting new amenities, restaurants and services," said Brent Maugel, president of Maugel Architects.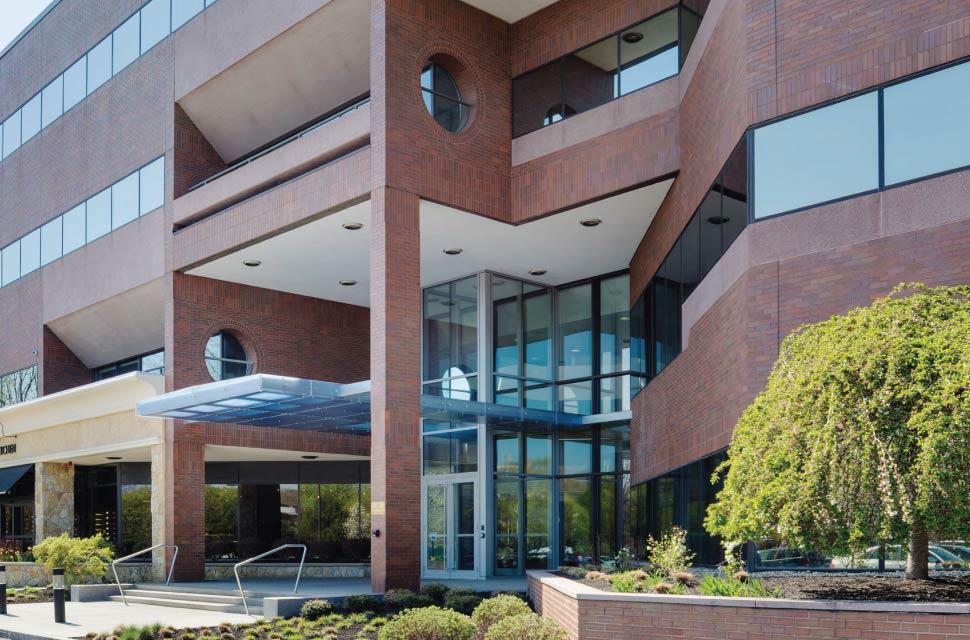 At Building 24, Maugel combined a dramatically cantilevered canopy with a new two-story steel and glass vestibule, giving new prominence to the previously nondescript entry facade. The four-story lobby was transformed through the use of high contrast materials and finishes including bright floor tile, rich wood wall panels, and colorful accent walls.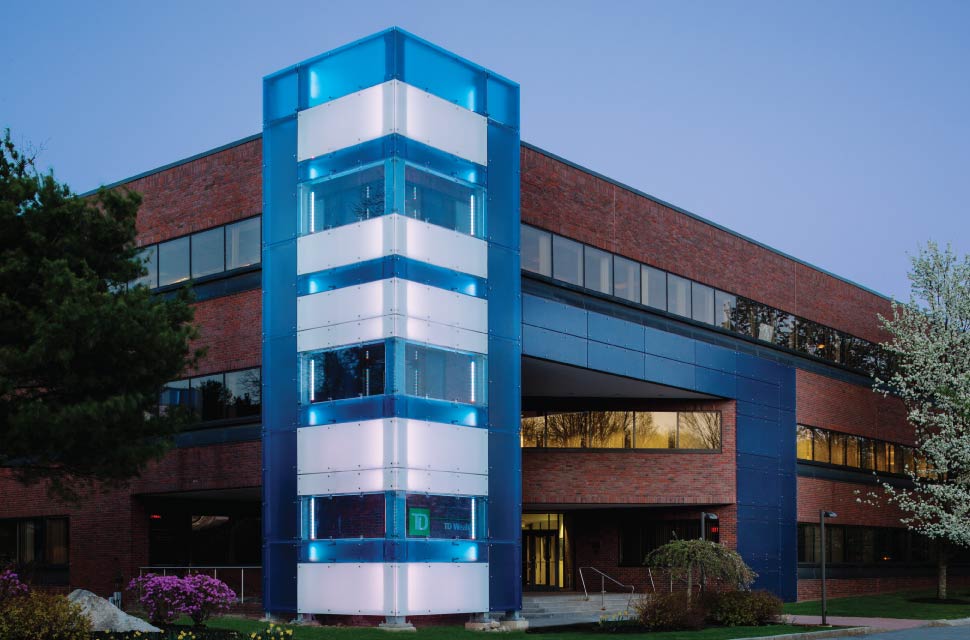 The design challenge at Buildings 15, 16, and 17 was to unify the facades without penetrating the building envelope or replacing existing doors and windows. The solution was the use of bright, polycarbonate panels on new structural grids—independent of the existing buildings. The backlit towers create an iconic architectural feature that contributes to the branding of the campus. Maugel also restructured the outdoor entry lobbies and reconfigured entry stairs and ramps to provide clear, easily accessible entries.
The original entrance to Building 8 was encumbered by a windblown, poorly lit plaza. Maugel designed a newly enclosed lobby that transformed the space into a tenant amenity. The new space features soothing nature elements such as a living wall, natural bamboo wall panels, organically shaped mosaic floor tile, patio-like furniture, and mood boosting lighting. The result is a feeling of being outdoors year round.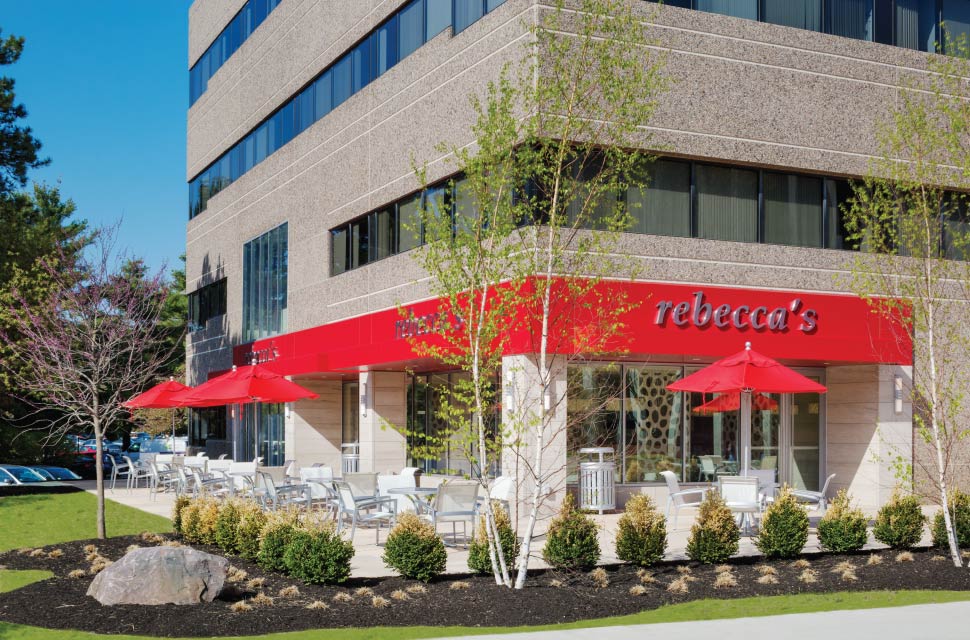 Also at Building 8, Maugel undertook a complete rebranding and renovation of the popular Rebecca's Café. The café's interior was transformed from a dark, dated space into a modern, light-filled eatery with vibrant walls of apple green, sustainable bamboo tables, contemporary LED lighting, and crisp white decorative vision screens. The reimagined outdoor amenities feature a new dining plaza, with modern patio seating and bright red umbrellas, and a formal park organized around pedestrian paths and upgraded building common areas.
The team of National Development, Cranshaw Construction and Maugel Architects managed all five projects as one fast track, concurrent effort—simultaneously studying design options, cost estimating, and decision making.