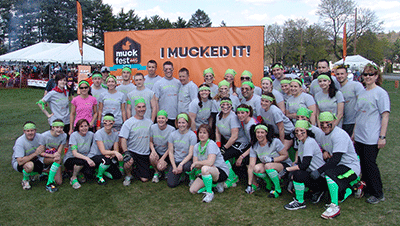 On April 27th, MS Muckfest Boston took place at Devens, Mass. with 2,425 people participating. Muckfest is a 5 mile obstacle course constructed of steel and mud, similar to the Spartan Sprint or Warrior Dash, benefitting the National MS Society. The Muckin' A's, with a team of forty people, raised $8,415 in a little over a month. At the Boston location, the Muckin' A's was the second largest team and ranked fourth in fundraising! In addition to myself, Maugel's intrepid mudders were: Meg Kennedy, Christina Borella, and Jen Oliveri. (I guess the guys are afraid to get their feet wet.) I know we'd all donate a little extra next year just to see Kunz and Almy with mud on their faces...
The Muckin' A's can't wait for Muckfest 2014. Some of us have already registered. Next year's goal is to have a team of 60+ and to raise $20,000 for the National MS Society. Muckfest is a fantastic, fun, dirty event and hopefully it will bring us closer to a cure to multiple sclerosis.
If you would like to help out or join next year's Muckin' A's, please send me an email at hward@maugel.com. We'd love to have you!