As many of you know, I was diagnosed with Multiple Sclerosis in 2000. I have been participating in the MS Walk since 1999 and have personally raised over $50,000 to help find the cure for MS. This year the National Multiple Sclerosis Society is not only hosting the Walk for MS but is also having Muckfest MS in the Boston area.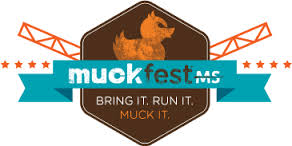 MuckFest™ MS is the nation's best mud and obstacle fun-run. But it's so much more. Made with mud, sweat and cheers, the five-mile course features a gauntlet of muck-filled mazes, pits and craters with over twenty gigantic steel obstacles. The fun doesn't stop when you slide over the finish line. There's beer, great food and music in the MuckFestival area. Muckfest operates on "the more, the muckier" principle, so bring your friends and family to join in the hilarious spills and thrills.

And here's the best part: 100% of the fundraising dollars go to the National Multiple Sclerosis Society—proving that you can have loads of dirty fun and feel good about it in the morning.

Muckfest MS Boston is taking place on Saturday, April 27th, at Fort Devens. So far, my team, the Muckin' A's, is up to 31 members and as a group we have raised over $4,000!
To join our team or to donate, please click here.

Thanks for your support.